A time to
celebrate our shared values: respect, inclusion, civility, responsibility, compassion, equality and the opportunity to have a fair go; and
appreciate our democratic rights and the rule of law
These foundations of our nation are relevant to all Australians and are worth celebrating. Australian citizens enjoy a standard of living that delivers a safe, secure, and fair society. Australia Day reminds us of these important elements that make our nation an awesome place to live!
To help Australian teachers, the Rule of Law Education Centre has created two student activity packs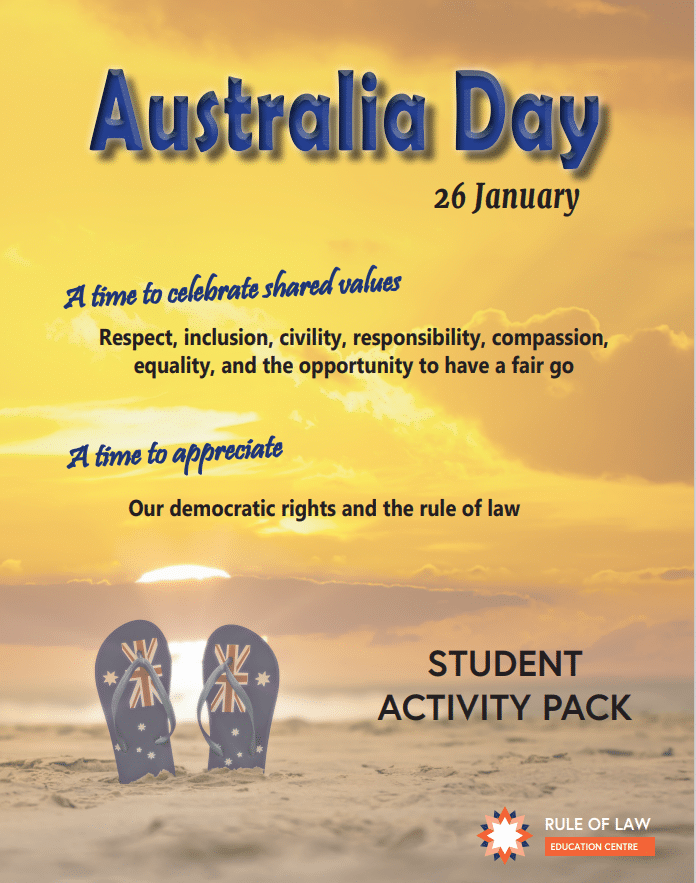 Download PDF Australia Day Student Activity Pack
The Australia Day Activity pack provides an opportunity for students to sit back and think about what it means to be an Australian citizen.  It includes student activities that:
reflect on the benefits of living in a democracy
consider our civic responsibilities to support Australian democracy into the future
understand and explain the Australian values we all share and how they help us to live in harmony together
highlight the positive symbolism and pride of the Australian flag, which defines our identity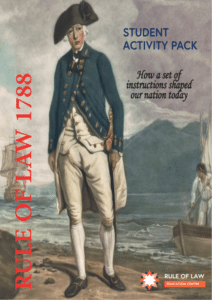 Download PDF 1788 Instructions Student Activity Pack
The 1788 Instructions Activity pack provides information for students and teachers about how the rule of law came to Australia and formed the foundations of the new colony, including:
the law terra nullius that was to impact indigenous peoples to this day
the story of the British Home Secretary, Lord Sydney, and his plan for introducing legal precedents in establishing the new settlement
a bio of Captain Arthur Phillip, who became the first Governor of NSW, Australia
period style posters of The Instructions given to Arthur Phillip by Lord Sydney and the Rule of Law 1788
a variety of multi-ability level student activities, including researching convict fleet passengers and native title
Classroom Posters
Click on the below images to view PDF versions of our Australia Day Posters.  Why not also check out all our free classroom posters by clicking here.