Booking Update
Law Days Out  for Terms 1 and 2  in 2024 are fully booked out. We are still unable to open the system for Court Visits as yet as we are still in negotiations with the Sheriff as to how this will operate going forward but are moving toward a resolution soon.
The Sheriffs have requested that schools outside the Sydney Metropolitan area wishing to book a court experience should contact their Local Regional Courts such as Campbelltown, Penrith, Wollongong or Newcastle.  Please note Parramatta Courts are currently unavailable for school excursions.
Book to Visit the Courts
The Rule of Law Education Centre provides a booking system for schools wishing to visit the New South Wales Courts.  In accordance with directions from the Sheriffs and Chief Judge of the District Court of NSW, there are limits on the amount of students able to visit the courts at one time.   A list of schools who have booked to visit the NSW Courts is provided to the Sheriffs and only those schools will be able to enter the Downing Centre.  To make a booking, click on the relevant excursion experience below.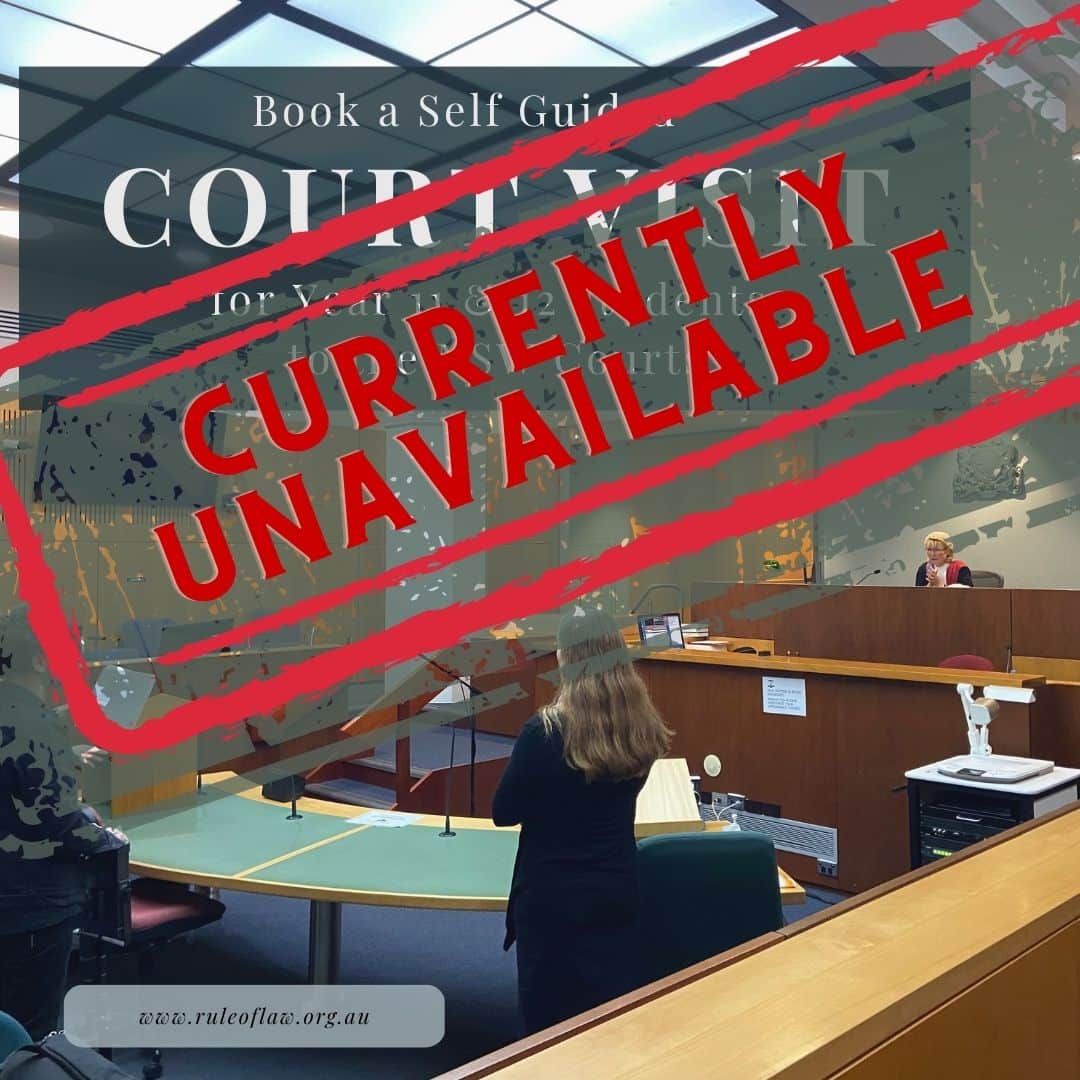 Sydney  Court Visit Program – A  self-guided visit to the courts, booking a Court Visit is free of charge and includes relevant security information and ensures approved access to court buildings.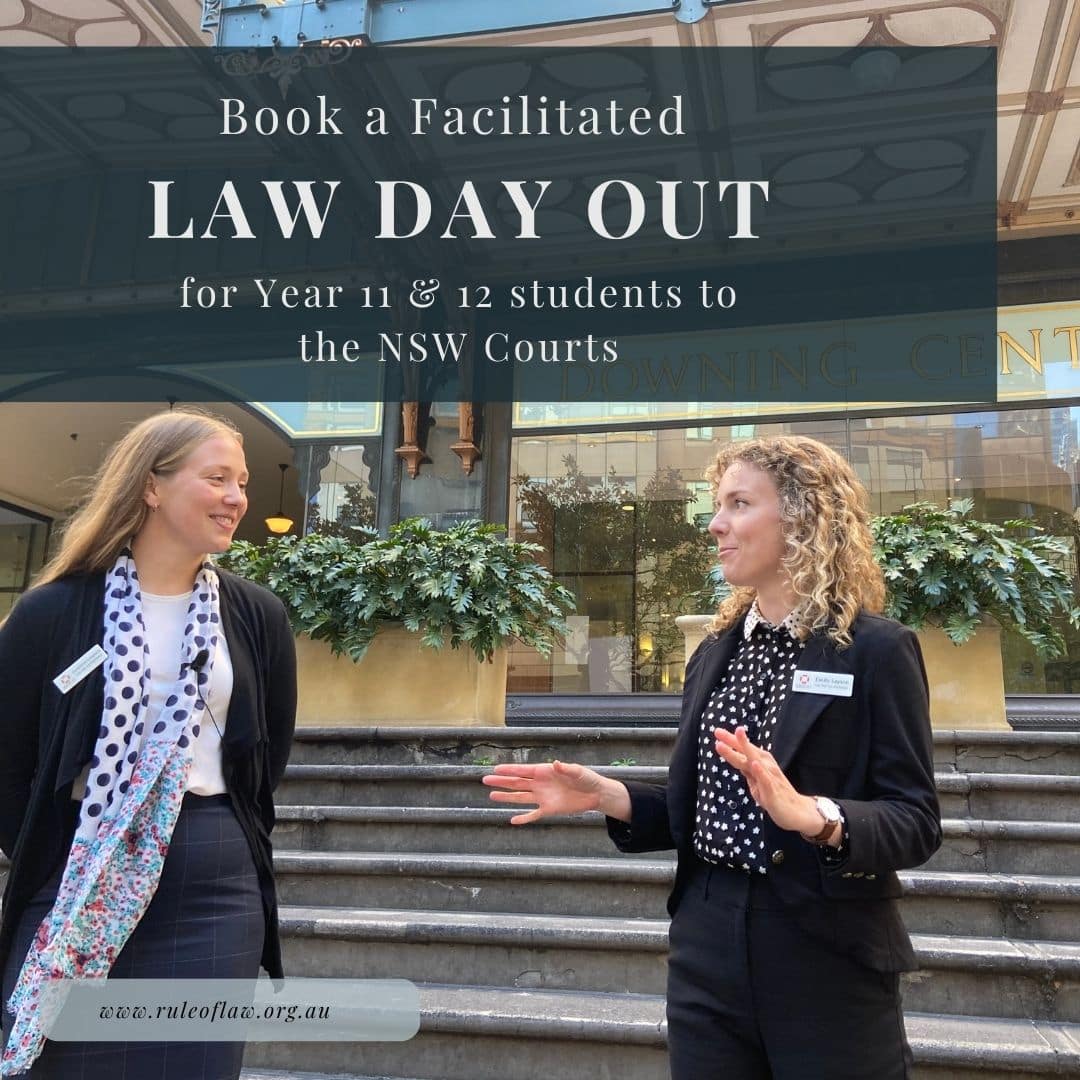 Law Day Out Court Excursion Program (LDO) – NOTE WE ARE FULLY BOOKED OUT FOR TERM 1 and 2 in 2024. Follow us on Social Media for when we open Term 3 and 4 bookings.
A Court Experience facilitated by a Rule of Law Educator with the opportunity, where possible, to meet a Judicial Officer.  LDO's are limited to 45 students and cost is group based pricing based upon the number of students per group.
Court Excursion Documents
The Rule of Law Education Centre has put together a pack of information to help your excursion to the Courts run smoothly. The pack is free of charge and includes an information pack for teachers, risk management proforma and student workbooks.
Court Excursion Payments
Payment is required 45 days before a school can attend a Law Day Out Court Excursion Program which includes facilitation from a Rule of Law Educator.  Payment can be made via EFT as per the details on the invoice or by Paypal/Credit Card.  
The Importance of Courtroom Experiences
Providing students with a Courtroom Experience may have a greater impact on the next generation then one might assume.
Pursuing a culture of lawfulness in which our young citizens can explore the fundamentals of our nation's legal system will no doubt build a conscious awareness and respect for the law. By guiding students through the courtroom, teaching them about the importance of legal processes and even facilitating discussions with judicial officers, we at Rule of Law Education seek to broaden their ever-budding perspectives of society through the lens of a hands-on Courtroom Experience.
Law Day Out Excursions
What are they and why are they valuable?
Cultural Leaders
With the prolific rise of social media, the popularity and public knowledge of leaders in the legal realm has diminished and as such, these leaders lack cultural influence. Instead, social media uses algorithms to accelerate consumerism and drive the status quo using 'influencers' which prevents students from confronting different world views and challenging their values. This narrowing of world views hinders student from becoming 'active citizen' who can make balanced and informed decisions. These students subsequently lack role models who inspire students to utilise their citizen rights and responsibilities to promote broader principles of human rights and the rule of law. This is dangerous as a Civics Expert Group recognised
our system of government relies for its efficacy and legitimacy on an informed citizenry; without active, knowledgeable citizens the forms of democratic representation remain empty.
Courtroom Experiences not only strengthen the current curriculum but mobilise our judicial officers to have a place in our communities as cultural leaders. In the Rule of Law Education's Law Day Out program, we have seen judicial officers inspire and guide younger generations and use their passion for the law to inspire students to appreciate and stand up for their rights and responsibilities as citizens.
Developing Trust
An ongoing tragedy of the current day is the deterioration in the public's trust in the law and the agencies that enforce it. Rapid political turnover, overzealous regulators, untruthful social media content and cultural disengagement from the law – these are all symptoms of an underlying ignorance towards the law that exists in modern society.
However, we believe Courtroom Experiences are the path towards building up the public's perception of our legal system, ensuring that the youngest generation of our society will be well-equipped to learn about the foundations of politics, law and justice. By leading students through an interactive experience within a legal environment, we aim to clarify their perceptions and answer their inquiries. After all, making the law knowable and comprehensible is the first step towards building their trust in it. In turn, restoring the public's faith in the rule of law encourages our communities to support regulatory systems and tackle criminal behaviours.
Community Support
Courtroom Experiences can also humanise our procedural and substantive legal processes so that students feel safe in the communities under authorities they know and trust. It ensures that future generations encourage their own communities and spheres of influence to live lawfully so
those who transgress will find themselves targeted not only by law enforcement, but also by many sectors of society.
Courtroom Experiences can prompt a shift in thinking so that student's place more confidence in the community around them and foster a deeper understanding of the rule of law.
After attending our Law Day Out Program and seeing the law in action, we have seen students challenged to take responsibility for their own actions and encourage their peer to do the same.
Courtroom Experiences can result in powerful lessons and realisations among the future generations of Australia as it widens the scope of their freedoms and citizen duties. It is imperative we ensure citizens are equipped to advocate for the rule of law and ideals such as right to liberty and the presumption of innocence that are enshrined in our Australian legal system. These citizens are guardians of community justice and safety, and their worldview should be shaped and fostered from by cultural leaders who can develop trust and community support for human rights and the rule of law.