Donate Now to Help Australians know and value the rule of law
The Rule of Law Education Centre is a not-for- profit organisation that teaches Australians about the Magna Carta and its underlying principles of the rule of law.  It has been endorsed by the Australian Taxation Office as a Deductible Gift Recipient.  Donation of $2 or more are tax deductible for Australian taxpayers.
Donate a Book!
The Rule of Law Education Centre has released a storybook called the 'Lost Parcel' that uses the story of convicts Henry and Susannah Kable and the first civil case to explain how the law provides equal protection and equality before the law. To learn more about the book, click here.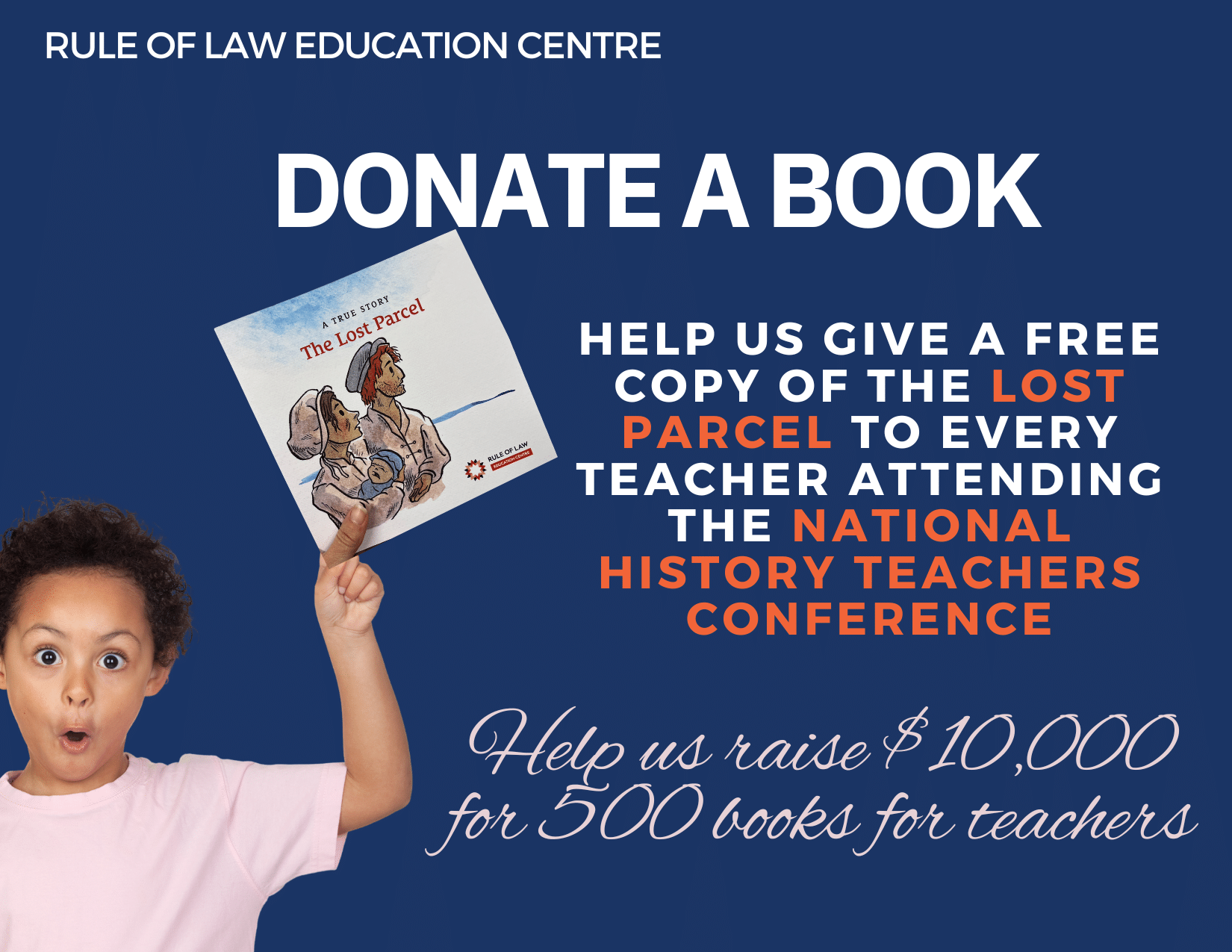 As teachers are under-resourced in many schools without sufficient budgets to purchase new resources, we are looking to raise $10,000 so we can give the book for free to all the teachers attending the National History Teachers Conference in November.
For every $100 donated we can give away 5 books to teachers!
Click the PAYPAL image below to donate.
Donations can be made by EFT, cheque or Paypal.  Please email us at info@ruleoflaw.org.au for more details.  To donate by Credit Card/Paypal, please click the Paypal button to the side.
A society that supports the rule of law is not one composed of uncritical and obedient citizens; rather it is one whose citizens understand and respect just laws, are aware of their function, know how to engage with them constructively and how to challenge them as needed, within the appropriate mechanisms and institutions.
– United Nations Office on Drugs and Crime
 We provide Australian school students with non-partisan, syllabus relevant and contemporary resources together with our signature Law Day Out Excursion Program.  Our resources encourage a culture of lawfulness within the Australian community where students not only support the rule of law in theory but are engaged in supporting and upholding its operation.
 When a society becomes comfortable and complacent, past fundamental principles are commonly forgotten and their significance lost, and it is no different with the rule of law.

Rule of Law Education seeks to explain to high school students why the rule of law is important and students are asked to critically analyse legislation and the work of the legal system using the filter of rule of law principles.

Since we began teaching high school students and established our education based website, we have taught over 30,000 students throughout New South Wales and Queensland and have had over 1.5 million page views on our website.  This is no mean feat for an Institute which relies solely on voluntary donations.
 – Robin Speed, Founder
 Please join with us as we help Australian students know and value the rule of law.
Your donation will assist us in providing these programs to more young people across Australia.   Please email info@ruleoflaw.org.au if you have any questions.