Covid Update
The booking system for Law Days Out are now open. We are still unable to open the system for Court Visits (visits to the Court that are not facilitated by the Rule of Law Education Centre) as yet as we are still in negotiations with the Sheriff as to how this will operate in Covid safe way going forward but are moving toward a resolution soon.
The Sheriffs have requested that schools outside the Sydney Metropolian area wishing to book a court experience should contact their Local Regional Courts such as Campbelltown, Penrith, Wollongong or Newcastle.  Please note Parramatta Courts are currently unavailable for school excursions.
Law Days Out in 2023
Law Day Outs in 2023 will look a little different to prior years and may change in accordance with directions from the Courts and Sheriffs.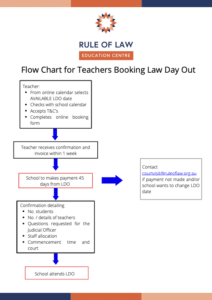 The Rule of Law Education Centre will be opening bookings for Term 1 and Term 2 in 2023 for the following Law Day Out experiences to the Sydney Courts (Downing Centre or Supreme Court);
LDO on Tuesdays and Wednesdays each week.
Fee of $200 (excluding GST) per LDO
Maximum amount of 45 students
Facilitator to guide excursion around courts
Where available, a judicial officer will speak to the students.
Due to various Covid-19 limitations that some courts are still working under and the need to ensure justice continues, the Law Day Out excursions may change in accordance with directions from the Sheriffs and the Courts.  We will have alternative activities and may have alternative speakers for you on the day other than was planned, so will need patience and understanding if plans alter on the day of your experience.
The flat fee of $200 per LDO does not actually cover our costs of running the excursion but is a reduced amount as we readjust to running Law Day's Out with a brand new staff team. As per the Flowchart, payment is required 45 days before the LDO.  For low SES schools or those with smaller groups, the $200 set fee may be reduced by approval of the Education Manager.
The supervision ratio for this experience has been set to a student:teacher ratio of 20:1, we strongly encourage schools to consider bringing additional staff members to enable maximum supervision of students at all times while in courts and in the court complex. There are offenders present throughout the complex, including offenders on drug and child related offences, who are sitting in public galleries in courts with students, attending bathrooms and awaiting proceedings in public seating areas. Schools should attempt to increase supervision such that a teacher can be sitting in court with students in groups of approximately 4-5 students where possible to ensure minimal interaction with offenders. The ratio for both Law Days Out and Court Visits is currently under review for compliance with child safety needs.
Please email courtvisit@ruleoflaw.org.au for further information.
Bookings
To make a booking go the the Calendar on the bottom of this page and click on a booking slot that is marked "AVAILABLE" and works with your school calendar. If you make a mistake or try and book on day that has been already booked (but we have not yet marked as FULL) it is better if you refresh the page and start again to make a new booking for another date.  We have tried to make the booking process as easy as possible- but there many be some teething problems as we have not had to make bookings for over 2 years!! Contact us by email at courtvisit@ruleoflaw.org.au if you have any issues.
To access the Booking Calendar On a Mobile Phone, click here