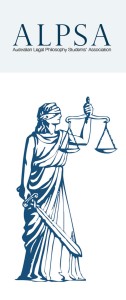 This year Australian Legal Philosophy Students Association (ALPSA) will be running an essay competition for all Australian University students – undergraduate and postgraduate! Write on any jurisprudence topic you like – from the rule of law in Australia today (see some ideas on rule of law below), to law and economics theory, to the Hart-Dworkin debate, and anything in between!
Feel free to submit an essay that you have written as part of your university studies. This year we have an absolutely top-notch judging panel, and prize money to be won! The winning essay will also be (pending approval) published in the University of Queensland Law Journal in 2015.
For more details see the competition flyer.
Entries close: October 31, 2014
Some articles of interest on rule of law issues: