The anniversary of the Eureka Stockade is fast approaching. This is the name given to a rebellion by gold miners who stood against colonial forces in a field at Eureka, near Ballarat, Victoria on December 3rd 1854.
This event is seen as an important development in Australian democracy, as the miners demanded the attention of the authorities for fair treatment, freedom of speech, and equal rights. Rule of Law Education is introducing new resources you can share with your students to use in class and help them understand this infamous event.
All resources, and more can be found on our website https://www.ruleoflaw.org.au/education/primary-resources/australian-colonies
Eureka Character Cards
The Students can learn about how the Eureka rebellion saw the miners stand up to arbitrary authority. Research the events and people who were involved in this tragedy and complete the Eureka Character Cards for display in the classroom, or get the students to create a mini booklet.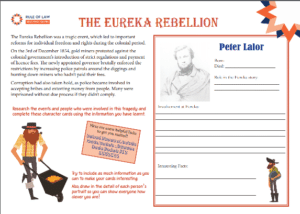 The Eureka Debate
The colonial government struggled to provide basic services to the new communities, which were rapidly developing in number across the gold fields during the 1800s. Did the government have the right to impose fees and taxes on the miners at Eureka?
This resource provides preliminary information to help students participate in the 'Eureka Debate'.

The Eureka Chatterbox GAME
The Eureka Chatterbox is a fun way to help your students learn about the events of the Eureka Rebellion!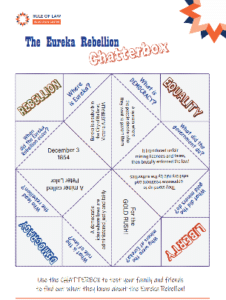 Eureka Rebellion POSTER
The Eureka Rebellion represents a stand for individual rights, fair representation, freedom of speech, and equality. Use this poster to stand together for democracy.
With the end of the academic year fast approaching, these resources are being sent to you now so you can prepare your students to have a memorable day on 3rd December!