The Rule of Law Education Centre presentation to the Legal Studies Association Annual Conference on 31 March 2022 on 'The relationship between the Rule of Law and the HSC Syllabus using R v Skaf.'
Survey
The Rule of Law Education Centre is an independent, non political, not for profit organisation that promotes the Magna Carta and principles of the rule of law to Australian school students.
We would love an insight into teachers use of Rule of Law resources for Commerce and Legal Studies and to better understand the needs of teachers with respect to resourcing going forward.  Click here to Complete our Survey:  https://forms.gle/QL57L3Pi3Z4Txd5e7
Presentation Outline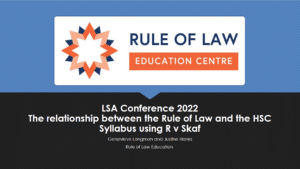 This presentation seeks to assist teachers in deepening their understanding of the principles underpinning the Rule of Law, their relationship with and applicability to the Legal Studies Syllabus and an examination of the use of these principles by the legal system in a case study, R v Skaf.  
1. What is the Rule of Law?
The rule of law is one of the fundamental democratic principles that our Australian society is based upon.  The rule of law at its most basic level is the concept that both the government and the citizens know the law and obey it.   
The Rule of Law Education Centre uses the Rule of Law Wheel to help explain the different principles that ensure citizens are governed by laws, made by elected representatives that are administered justly and fairly.  
These principles can be mapped to the Legal Studies syllabus using the criteria for effectiveness.
2. The Skaf Case
The Skaf case considers how the legal system deals with the 'worst of crimes' and provides a considerable amount of material and contexts to teach different components in the legal studies course including:
– Jury Misconduct for a fair and prompt trial
– Law reform
– Sentencing
– Appeals
Student Activity for Preliminary Legal Studies Part I: Law Reform
Introduction
The activities for use by teachers and students at Preliminary and HSC levels have been designed to help students to understand the use of Rule of Law principles in the syllabus dot points by applying both in the context of the same case.  
Student Activities for HSC Crime Unit
Classroom Posters
The Rule of Law Education Centre has created Posters to be used on Smartboards and a paper copy was provided to teachers attending the Conference.  All of the Rule of Law Posters can be found at our website https://www.ruleoflaw.org.au/education/infographics/